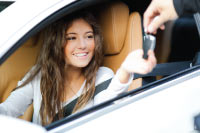 The automotive arena is no longer a male-dominated industry. In fact us women are buying cars and influencing the car-buying decisions more than ever before. Not only are we influencing car sales, but we are also shown to be the key decision makers in 80% of new car and truck purchases. According to American Women Road & Travel Magazine, women are spending about $300 billion annually on car sales. In addition to this there is maintenance for our cars, repairs and other miscellaneous services. Here at
Okotoks Nissan
we understand that it is important that a woman feels as comfortable as possible with the car buying process, as a car will be one of our biggest purchases in life next to a house.
Our
Nissan dealership near Calgary
is committed to helping our customers find the perfect vehicle that fits all their needs. When shopping around for a new vehicle, we women look for different features than men. We tend to focus on reliability, storage space, environmental conscientiousness, technology, price, safety and of course style. A vehicle will become many different things to us woman - a theater for our children when traveling, a commuter vehicle to and from work and a place to gossip with girlfriends on a road trip. We understand this and we also understand that purchasing a vehicle is a long term commitment. We will do what it takes to make our customers feel as comfortable as possible. Browse through our selection of
new Nissan
cars to get started today. You'll find a wide variety of vehicles that fit a wide variety of lifestyles, such as the
2017 Nissan Sentra
and
2017 Nissan Pathfinder
.
Once you're here,
Okotoks Nissan
will make your car-buying experience an enjoyable one. After all buying a car should be exciting for you. Before the sale we will do research to ensure we know exactly what you are looking and do all that we can to find it. During the sale we will go through a thorough process to ensure there are no questions left unanswered. After the sale we will do all we can to guarantee you are satisfied with your purchase and will help keep your vehicle running properly in our
Nissan service centre
.
No matter what brings you in, we will work tirelessly to ensure you find the vehicle best for your lifestyle. We look forward to working with you soon!